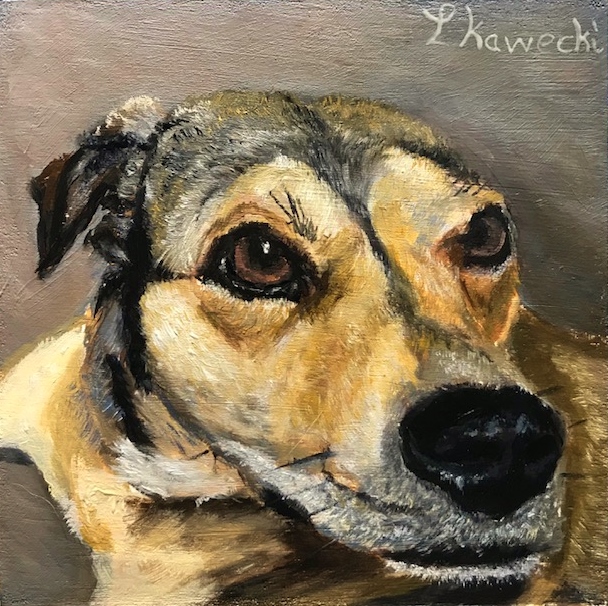 How it Works
Prices start at $149
Prices vary based on size and number of pets.
You pick the custom size you want.
I can also place your pet in a favorite location.
Or combine multiple pets (past and present) into one painting.
Email or call me for a no pressure conversation to learn more:
Contact me at lewiskaw@yahoo.com or 530-448-0058
Pet Photos can me email or sent by text.
Official contract provided and just 50% of cost is needed to start the painting.
I accept cash, Visa, Mastercard, Venmo, PayPal, Zelle, and Local Check.
Please leave a message if I don't answer, Calls returned within 24 hours.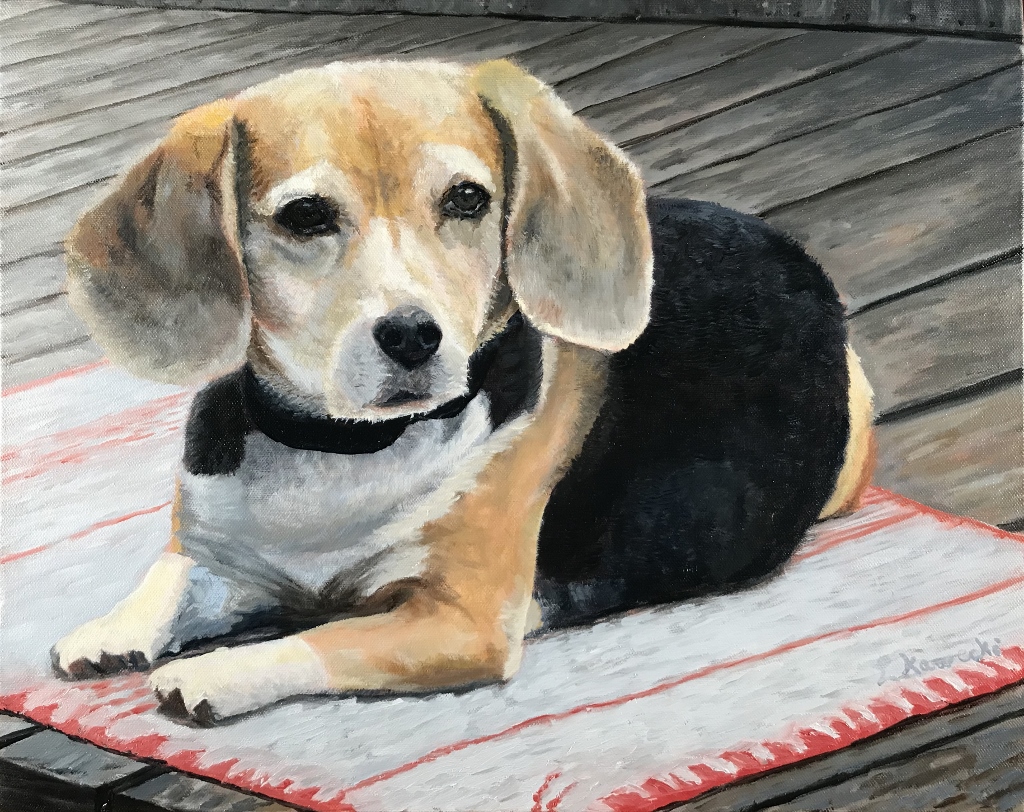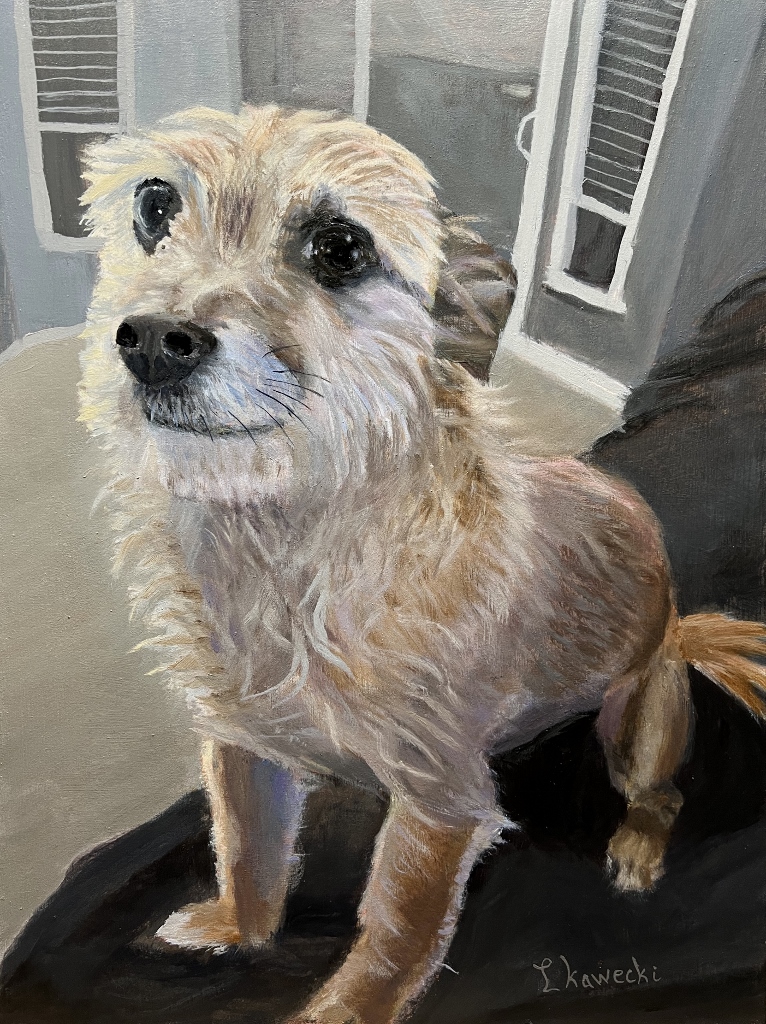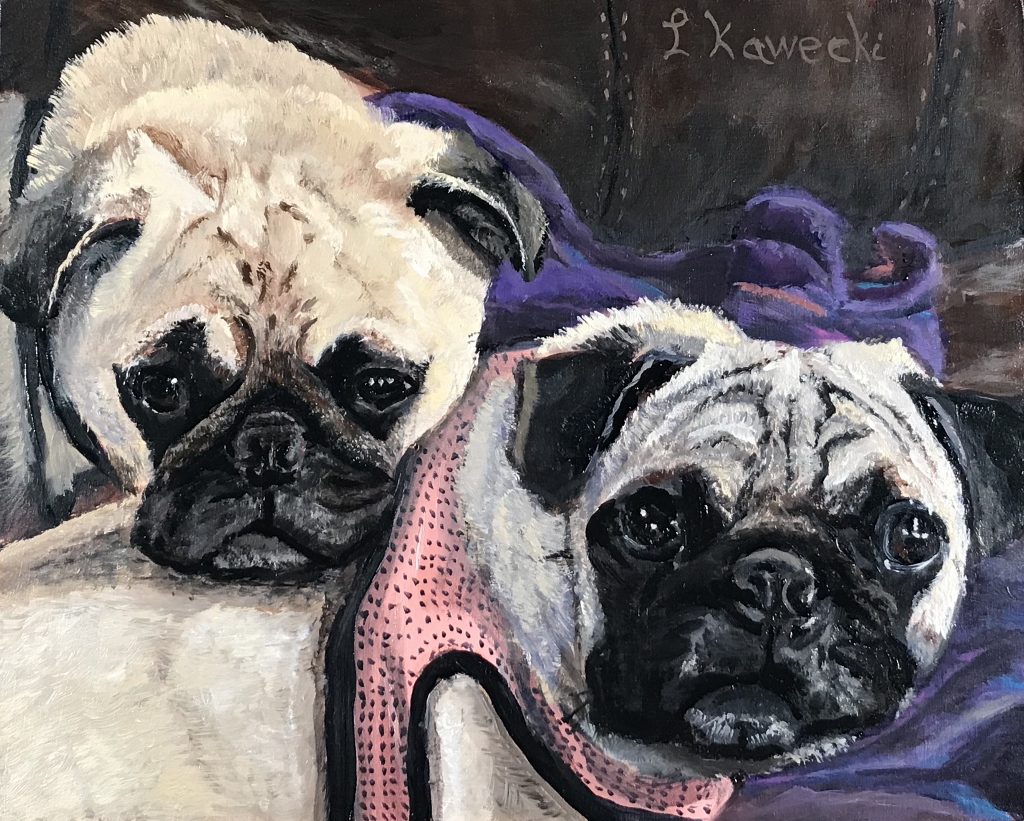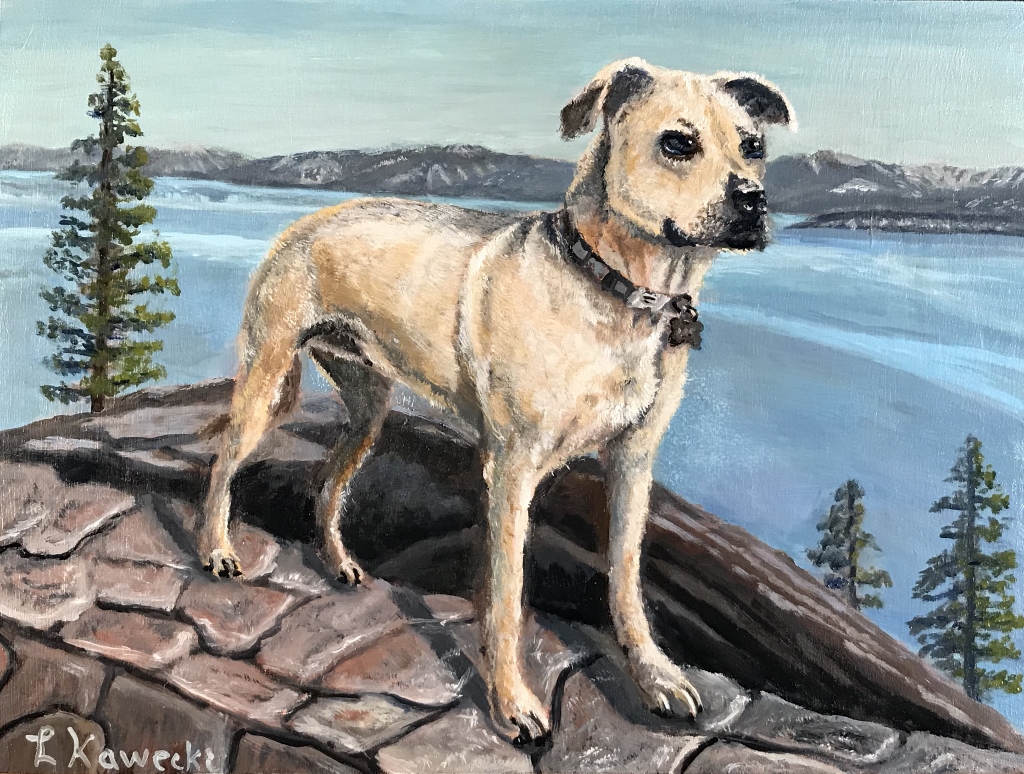 Why I Paint Pet Portraits and More examples below:
There are times in our life when we realize what is truly important. For me that moment was when my beloved cat, Sophie was diagnosed with advanced cancer. She was so much more than a pet, she was family. I grieved for weeks and weeks, and then I started creating a painting of her and realized that other people also needed a painting of there beloved cat or dog.
That moment of realization can be a stressful Remodel where it feels like something is missing or you aren't represented, a Relocation, a Career change, or the death of a pet or loved one like in my case. All of these events are stressful, but there is always a lesson in stressful time. For me that lesson was life is precious, and I need to value the important friends and family (including pets) in my life. I also realized that stress and grief are a part of life that can't be avoided; the only way through these tough times is to feel our feeling and share them with trusted friends and family to get us through these tough times.
I express my feeling through painting because paintings are more than just an image, they are an expression of our emotions. These emotions are expressed in the brush strokes, the texture, and the time and love I put into my paintings. I love getting to know your beloved pet through photographs and stories; so, I can created the painting you always wanted to share with friends and family. You don't have to have amazing photographs or videos, I can use multiple photographs and details you provide to create the painting you always wanted. I can enhance your favorite photo, or combine multiple photos to create the painting you couldn't capture in a single photo. I can also combine multiple pets into a single painting or place your pet in your favorite location. An archival quality painting can be passed down to your children because it lasts the test of time.
My paintings are not a product. I am providing a service where I work with you to create the painting you desire of your beloved companion. I show your the progress along the way to make sure your beloved furry friend is represented as you imagined. I provide you with a contract so you will know exactly what to expect. And I can ship your finished painting to you if you are located outside the Lake Tahoe, CA or Reno, NV area. Please email or call me to start a free conversation about your dream painting at email: Lewiskaw@yahoo.com or call: 530-448-0058. -"Your pet loving painter", Lewis Kawecki
Let me Introduce you to my Pets
My cat "Sophie" was born in a shelter after Hurricane Katrina and shipped off to Lake Tahoe as a kitten; so she was a shy kitten after being separated from her mother. She hid under the couch for the first 10 days after we brought her home. Then she found my lap, and would lay on my lap for up to five hours a day while I worked at my computer from home. After that we were bonded to each other. Just recently she was diagnosed with advanced cancer. After losing my cat, "Sophie", to Cancer recently, I felt like I hadn't loved her enough and I had taken her for granted. I had a hole in my heart and home for weeks and weeks, I realized I hadn't taken enough pictures and couldn't find a good quality picture for displaying in our house. Losing "Sophie" was harder than I ever imagined and I desperately needed an image of her back in our house. So, I used some recent photos to create an oil painting worthy of "Sophie." Now, "Sophie" still has a place in our home. And, I want to help you by creating an Original Oil Painting of your beloved companion.
We feel so lucky to have our dog, "Papaya", still with us after loosing "Sophie." "Papaya" is a rescue from Costa Rica that walked out of the jungle and found us at 3 weeks old during an extended vacation. The local animal rescue was out of funds, so we took care of her and fell in love with her. It was touch and go for weeks because she had extremely bad worms and giardia from the jungle. But, she is a fighter and survived and thrived. We are so glad our high energy puppy was able to find her way out of the jungle and into our hearts. In Costa Rica, Papaya was always looking for shade from the heat, but she loves the cooler temperatures and woods in her new home at Lake Tahoe, CA.
Paintings for Clients
I had a client from the San Francisco area that wanted to create a pet painting from multiple photos. They liked the side profile in the first photo, the face details and head tilt in the second photo, she also wanted some of her puppy colors from the third photo, and together we decided to include a closer version of the Golden Gate bridge similar to the fourth photo. This is what can make a painting so special, see the finished painting below.
I can also create a portrait of you and your dog/pet together. Below, I am creating a portrait of my niece and her dog waking up in bed together, but the painting is not quite finished. I am working from a grainy photo because of the low light; so I need to add details from other photos.
This is a painting of Jenny, a Mastiff, that passed away recently. She is on her favorite seat in the house, and the owner wanted me to place the "LOVE" sign in the background, because it reminds her of her connection to Jenny.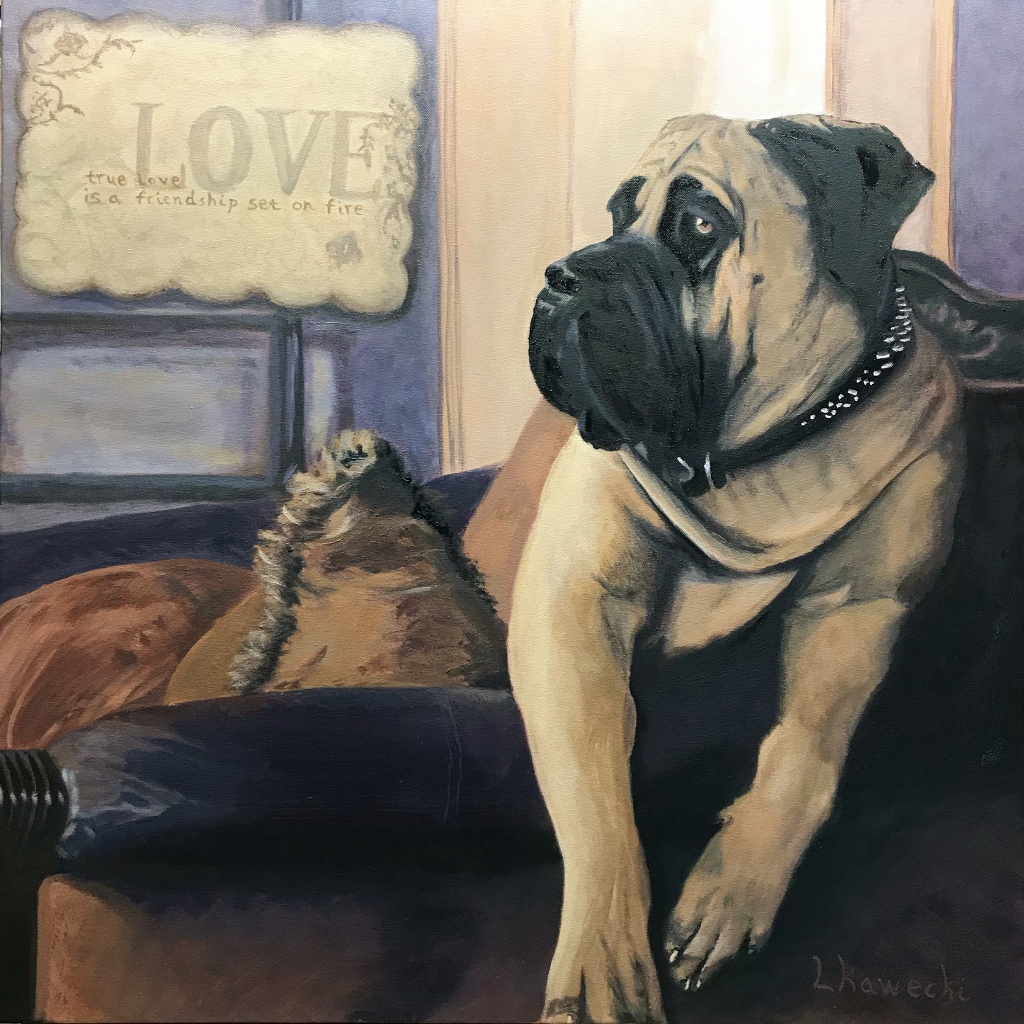 The lower dog in the painting below is Jenny's dad. The owner was so happy with the paining of Jenny (above) that she commissioned me to make a painting of Jenny's dad and brother who both passed away previously.
This customer really wanted a Black and White painting of his dog Colt. He said this sitting position really showed off Colt's personality. When the customer received the painting, he said, "The painting of Colt is so Beautiful Lewis! You really captured his expression. I'm so grateful." I am happy to have another satisfied customer.
What painting of your Dog, Cat, or Horse (or multiple pets) do you want to have displayed in your home for all your friends and family to enjoy?: